TS02 – Gardens, Roofs and Prairies in the Little Apple
June 18 @ 7:15 am

-

9:50 pm

$179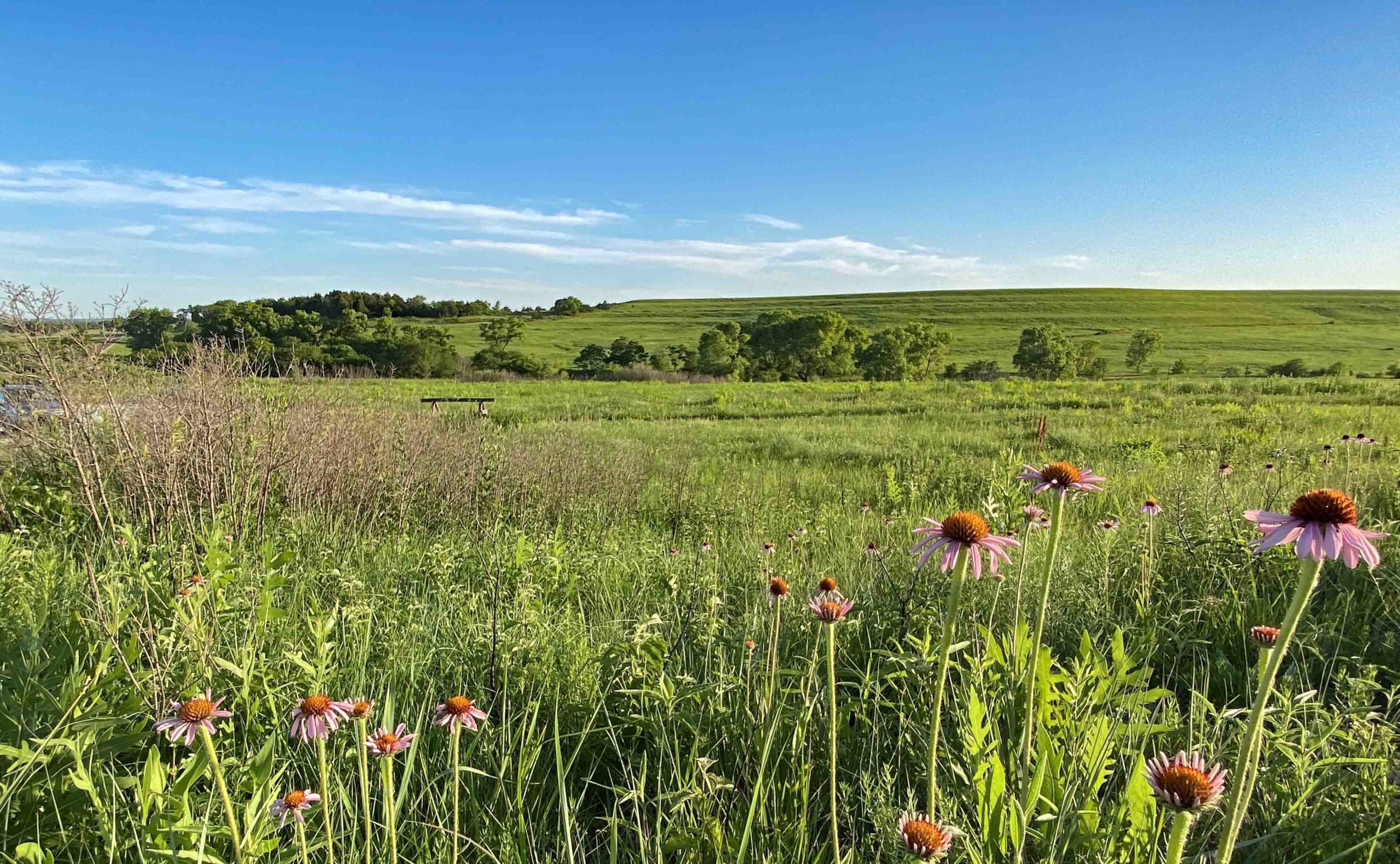 Did you know there are two Manhattans, the Big Apple and the Little Apple? The Little Apple is nestled in the heart of the scenic Kansas Flint Hills and best known as the home of Kansas State University.  
Here's your chance to experience all the Little Apple has to offer. It starts with a stroll through the University's display gardens. Not only are they a research area for K-State students, they are also a source of ideas for visiting gardeners. And they provide a quiet place to reflect and enjoy the beauty of this gorgeous campus. 
The morning ends with a guided tour of the forward-thinking green roofs on campus. Enjoy your walk-about as local Master Gardeners and K-State staff share the environmental, social, economic, and aesthetic benefits of green rooftops.  
By midday, it's time to sit back, eat, and get refreshed. 
Begin the afternoon by stepping inside the Flint Hills Discovery Center and getting a proper introduction to the tallgrass prairie ecosystem called the Flint Hills. Continue to the Konza Prairie, a tallgrass prairie preserve just outside Manhattan. Enjoy a 2-hour guided bus tour through the Bison Trail Loop where the bison may be visible. And don't worry . . . you'll have plenty of time to explore and take photos of the wildflowers and prairie vistas. 
As the day wraps up, it's time to kick back, socialize with new friends, and enjoy a meal at the historic Lazy T Ranch. We have it on good authority that a cowboy poet is in residence, and he just might (just might . . . ) entertain you.
A truly wonderful day in the Little Apple and on the prairie!
• Be sure to bring your conference water bottle. Water will be available on the bus.
• Box lunch
• Dinner
———————————————————
What to Bring
The Kansas prairie can be quite hot in June. Please wear cool, loose-fitting clothing and closed-toe shoes. Sunscreen and insect repellant are highly recommended. We'll have plenty of water for you to stay hydrated. Be sure to bring your conference water bottle.
———————————————————
Accessibility
The school bus through the Bison Trail Loop has no wheelchair lift. Otherwise, all tour stops are handicap accessible and easy to get to.
ITINERARY
Two-hour bus trip to Manhattan, KS
Display Gardens at Kansas State University
Your tour begins with the display gardens at Kansas State University. Developed and maintained by the Department of Horticulture, the gardens are an educational resource and hands-on learning laboratory for K-State students and the public. Stroll through:
Hardscape and ornamental plant trials.
Daylily, iris, rose, and peony collections.
An adaptive garden showcasing native plants growing throughout Kansas and the Great Plains.
A butterfly garden.
A cottage garden.
Green Roofs at Kansas State University
Fascinating and inspiring are two perfect words for describing your tour of K-State's four green roofs. At Seaton Hall (home of K-State's College of Architecture, Planning, and Design) you'll see two green roofs. Then a short walk takes you to the historic Memorial Stadium where stadium seating has been partially removed and retrofitted with two green roofs. With local Master Gardeners and K-State staff as your guides, you'll learn:
How green roofs are engineered, maintained and irrigated.
What's seeded and planted on the roofs and why.
The environmental, social, economic, and aesthetic benefits of having green rooftops.
Current research results about the benefits of green roofs for butterflies.
K-State's commitment to environmental education and sustainability.
While touring the green roofs, it's time to relax and enjoy a box lunch.
Flint Hills Discovery Center
Step inside the Flint Hills Discovery Center in Manhattan to get a proper introduction to the Flint Hills.
Learn about the ecosystem and its cultural history as you view exhibits on pure air, blowing winds, fire, underground forests, and water.
Experience the sights and sounds of the Flint Hills at the Immersive Experience Theater. Feel the wind rush through your hair. Watch the smoke from a prairie fire roll across the floor.
Visit the Prairie Garden Terrace to get a feel for the uplands, slopes, bottomlands, native grasses, and wildflowers.
Konza Prairie
Just south of Manhattan is the Konza Prairie, a tallgrass preserve owned by Kansas State University and the Nature Conservancy.
Enjoy a 2-hour bus tour through the Bison Trail Loop where, with any luck, a large herd of bison await you (hopefully, they have a mind of their own!).
Your guides are experienced Konza Prairie docents with a genuine love for the prairie and respect for its rich history.
With many wildflowers in bloom, June is the perfect time to take photos of the prairie's gorgeous blossoms and seemingly endless vistas.
Lazy T Ranch
Last stop for the day is at the Lazy T Ranch, a family ranch in the Flint Hills just outside Manhattan. The Lazy T is the perfect place to relax, socialize with your fellow travelers, and enjoy a wonderful meal. Homesteaded in 1855, the Lazy T is now owned by Kris Wilson, a Riley County Master Gardener (in Manhattan, Kansas) and Konza Prairie docent, and her husband Ron Wilson, a genuine cowboy poet.
Kick back, relax in an air-conditioned banquet hall, and enjoy a hearty ranch-style dinner.
Beer and wine are available and, for the curious, farm-style Kansas wine.
You may even get a special poetry reading about your day from the resident cowboy poet!
After a satisfying meal, it's time to head back to the Overland Park Convention Center, a 2-hour bus ride.