TS01A & TS01B – Amber Waves: Two Days in the Kansas Heartland (Single $467) (Double $397)
June 18 @ 7:30 am

-

June 19 @ 5:00 pm

$397 – $467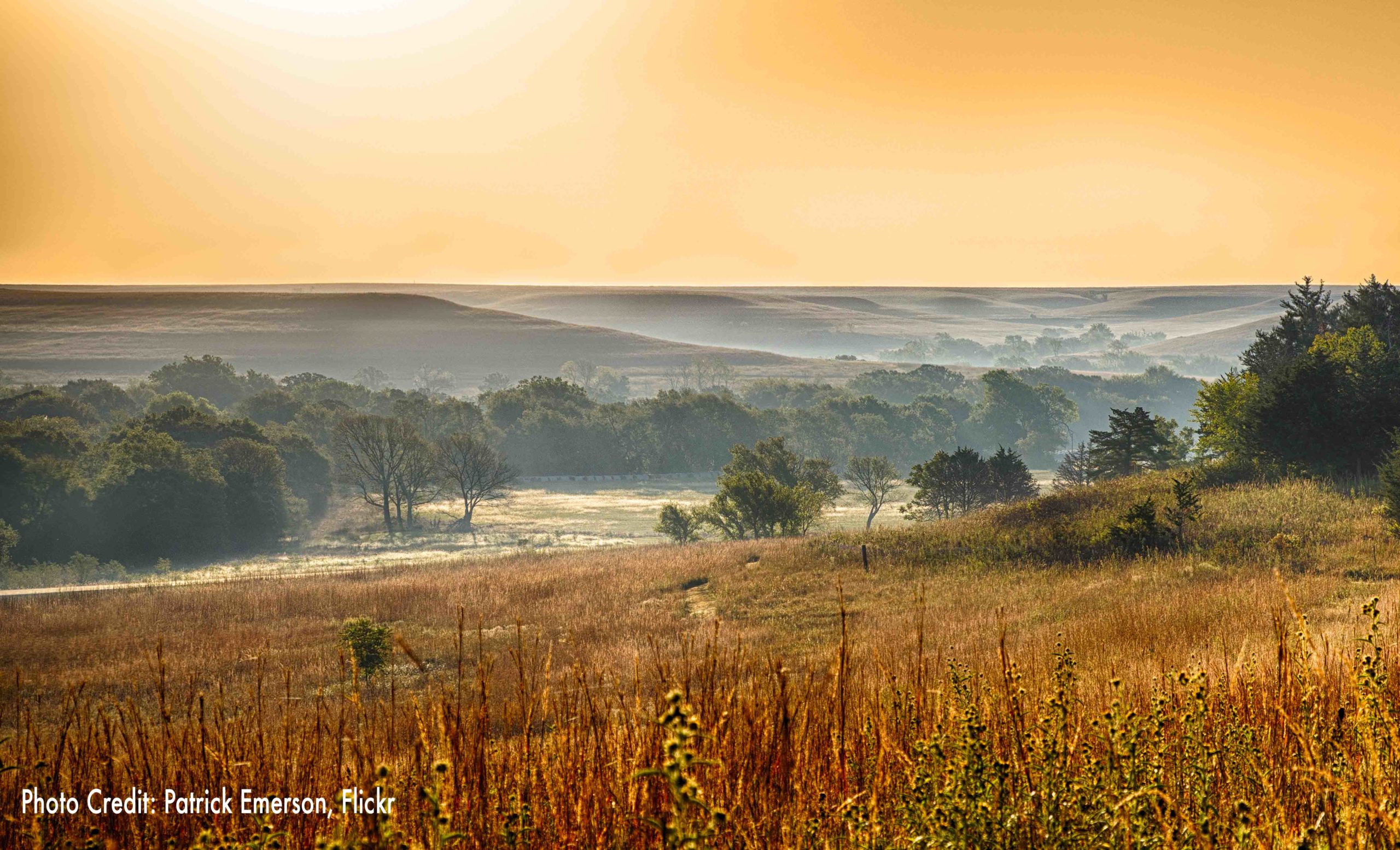 Come to the conference early and sign up for the only two-day tour offered. We know some folks think Kansas is flyover country. But if you go no further than Overland Park, you won't really see Kansas. So come along with us on a two-day tour into the heart of Kansas. Experience the vanishing prairie exactly as it was 8,000-10,000 years ago. Unplowed. Untouched. Listen to the sounds of silence as you look out on rolling horizons as far as you can see. As Willa Cather writes, "Anyone can love the mountains, but it takes soul to love the prairie."
Kansas was once covered by prairie, tallgrass in the east where more rain falls, mixed grass in the middle, and short grass in the arid west. Of the 140 million acres of tallgrass prairie that once covered North America, only 4% remains, most of it in the Flint Hills of Kansas, a geological wonder not to be missed. Visit Tallgrass Prairie National Preserve in the Flint Hills and Maxwell Wildlife Refuge in the mixed grass Smoky Hills. This is your chance to breathe in the prairie, be amazed by its incredibly diverse ecosystem, and be surrounded by bison.
Tour the beautiful Dyck Arboretum of the Plains, which nurtures one of the largest native plant collections in Kansas. Learn the why and how for adding native trees, shrubs, grasses, and wildflowers into your home landscape.
Stroll through Botanica, a garden paradise well-loved and cared for by the people of Wichita, KS. Botanica features over 25 theme gardens and over 4,000 species of plants, something to appeal to every interest.
By the time the second day draws to a close, you have looked across land that seems to go on forever and experienced the spectrum of Kansas horticulture—from prairie never broken by a plow to manicured botanical gardens. Then you can honestly claim you have seen Kansas.
———————————————————
Max Participants: 50
Price:  TS01A (double room) $397
Price: TS01B (Single room) $467
———————————————————
Included
Water on the bus. Be sure to bring your conference water bottle.
Sunday: Lunch and dinner
Monday: Breakfast and lunch
Hotel accommodations Sunday night
Admission to all venues
———————————————————
What to Bring
The Kansas prairie can be quite hot in June. Please wear cool, loose-fitting clothing and closed-toe shoes or hiking boots. A hat, sunscreen and insect repellent are highly recommended. You may also want to bring binoculars. We'll have plenty of water to keep you hydrated. Be sure to bring your conference water bottle.
———————————————————
Accessibility
Sedgwick County Extension: Wheelchair accessible.
Botanica: Wheelchair accessible although a few locations may be difficult because of variations in elevation.
Dyck Arboretum of the Plains: Mostly wide, flat concrete walkways. Occasional woodchip-mulched pathways to some gardens pose accessibility challenges.
Maxwell Wildlife Refuge: Most of the grounds are gravel or grass. Wooden ramp into the visitor's center has a significant lip at the entrance. Wheelchair access onto the tram may be problematic. Full access to the prairie will be difficult for folks with limited mobility.
Tallgrass Prairie National Preserve: Moderate exertion on trails, which are generally gravel surfaces. Not all parts of the historic barn and house are wheelchair accessible.
ITINERARY
Sunday, June 18
Enjoy a scenic drive through the Flint Hills as we make the four-hour drive to Wichita, KS. Includes a rest stop along the way.
Lunch at Sedgwick County Extension in Wichita, KS
After a morning bus ride, stretch your legs, and enjoy a tasty box lunch. Let your hosts at Sedgwick County Extension show you some of their 12 demonstration gardens located around the office. The daylily garden is apt to be in its glory.
Botanica in Wichita, KS
Botanica is Wichita's garden showcase, well-loved and supported by the community. Located on 17 acres, Botanica features over 25 theme gardens and over 4,000 species of plants. Botanica's docents provide a guided tour. Explore the gardens and take home inspiration for your own backyard. Among the many gardens you will see are:
Chinese Garden of Friendship: A tribute of friendship to Wichita's sister city, Kaifeng, China. The garden displays traditional Chinese gardening in a majestic showcase of art and architecture.
Rose Garden: More than 350 varieties of roses inspired by the round gardens of New Zealand.
Woodland Walk: A perfect garden to visit if looking for shade-loving plants for your home landscape. It's especially refreshing if the weather is hot!
Wildflower Meadow: Beautiful displays of native wildflowers and grasses.
Sensory Garden: Enjoy the colors, textures and smells on a wide variety of ornamental edibles and herbs.
By the way, it may surprise some, but Wichita is the largest city in Kansas (most of Kansas City is in Missouri). Located in the heart of the Midwest along the banks of the Arkansas River, it started out as an 1860s trading post and has since grown into a bustling metropolitan area. Wichita has long been a center of aircraft manufacturing and is also home to McConnell Air Force Base and Wichita State University.
Dyck Arboretum of the Plains in Hesston, KS
Next, head about 40 minutes to the Dyck Arboretum, a 13-acre garden dedicated to preserving native plants for generations to come through education and stewardship. It features more than 1,000 varieties of native and adaptable trees, shrubs, wildflowers, and grasses. What you see is the result of collecting native species and seeds from over 99 actual prairie remnants.
Get acquainted with the plants that once grew in abundance on the Great Plains. Touch them, observe their habits and beauty, and learn to call them by name. For gardeners looking to plant more natives, the hundreds of plant varieties are labeled and provide you with a lexicon for native plant gardening.
The Arboretum is a wonderful place to wander through and perhaps quietly reflect on your world. Grasslands and prairies are evocative landscapes with the quiet shhhsshining of the winds through the grasses and the sweeping, open horizons.
Dinner and Lodging in McPherson, KS
Your first day draws to a close in McPherson, KS, a 30-minute bus ride from Dyck Arboretum. Time to relax and socialize with your fellow travelers. Enjoy a delicious catered meal in the historic Citizens Hall in the McPherson Community Building. Built 95 years ago and freshly remodeled, the Community Building is a municipal treasure. Don't miss the basketball court upstairs, home to the McPherson Globe Refiners, the first U.S. gold medal Olympic basketball team in 1936.
Day is done, gone the sun. It's time for a restful night's sleep. Lodging details coming soon.
Monday, June 19
Breakfast in McPherson, KS
After a hearty breakfast, it's all-aboard at 8:30 a.m. for the 30-minute drive to the Maxwell Wildlife Refuge.
Maxwell Wildlife Refuge
The Maxwell Wildlife Refuge is a 2,800-acre grassland in the heart of the Smoky Hills. Amazing and exhilarating are two perfect words for describing it. The Refuge preserves and restores native prairie species. Herds of wild bison and elk freely roam the land, giving you a rare look into the past. It's home to many species of birds. Wildflowers are abundant.
Follow Friends of Maxwell volunteers as they tell the story and historical significance of the Refuge.
Experience bison up-close-and-personal on a 45-minute covered tram tour through the Refuge. You'll likely to see calves born in April.
Walk among the wide variety of prairie wildflowers, subtle and pretty as they hide in the grasslands.
Spend time in the visitor's center and learn more about the Refuge.
Lunch
A Delicious Lunch, Details Coming Soon
Tallgrass Prairie National Preserve
Head northeast about an hour to the last stop on the tour, the Tallgrass Prairie National Preserve with nearly 11,000 acres for exploration. It's home to the largest expanse of tallgrass prairie in North America. Unlike most other places, the geology of the Flint Hills has protected this prairie from being plowed under. This sea of grass was once a shallow inland sea of water. As the inland sea disappeared, the limestone and flint on the sea remained. Too shallow and rocky for plowing but excellent for pasture, the Flint Hills and surrounding areas of central Kansas were used by bison and later cattle as grazing grounds. The rolling vistas atop the surrounding hills are stunning. Summer wildflowers are usually abundant in June.
Begin your visit with the visitor center. Watch a 10-minute video and explore a range of exhibits that shaped today's Tallgrass Prairie.
Rangers are available to guide your visit and answer questions. Also, you can take a self-guided tour using your cell phone.
Step inside the massive barn that is constructed of limestone, a readily available natural building material in the Flint Hills. The barn is a marvel of construction techniques and technological innovation.
Tour the three-story limestone Victorian mansion of Stephen F. and Louisa Jones built in 1881. The house features several clever innovations for its day and stunning views from the upper story windows.
For those interested, take a short hike on the trails nearby.
After a full day, it's time to head back to the Overland Park Convention Center, a 2½-hour drive. We should arrive around 5 p.m. with a rest stop along the way.