KS02 – Conquer the Soil: Legendary Stories in American Horticulture
June 20 @ 8:15 am

-

9:45 am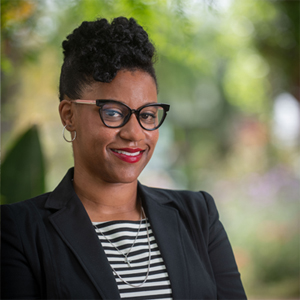 From flamboyant floral expressions to extraordinary achievements in literature and art, America's Black people have long sown seeds of greatness in their own gardens and the gardens of others. Abra Lee invites you to join her in a celebration of diverse and unforgettable tales of Black American gardeners' resilience, communal pride and shared love of Mother Nature.
Abra Lee has been described as a "rising star in the plant universe" committed to uncovering and honoring the diverse contributions of Black Americans in U.S. horticultural history.
Her career has taken her from greenhouse worker to municipal arborist, county extension agent to landscape manager at international airports in Atlanta and Houston, to being named a prestigious Longwood Gardens Fellow. As part of her fellowship research in France, Abra compared the lives of Ann Coleman Carvallo of Château de Villandry with Anne Spencer, the African-American civil rights activist of Lynchburg, Virginia.
In her upcoming book, Conquer the Soil (Workman Publishing), Abra unearths the American history of Black ornamental gardening. She celebrates legendary stories of 45 African-American women and men with accomplished but previously unheralded careers in our country's plant world.
A fifth generation native of Atlanta, Georgia, Abra has a Horticulture degree from Auburn University. No surprise, she's also a diehard Auburn Tigers fan.
With so many fascinating true stories to share, Lee has quickly become a sought-after speaker with audiences describing her as "delightful, fun, uplifting, a beautiful storyteller."