CS36 – The Giving Grove: Inspiring Community Orchards Across America
June 21 @ 11:15 am

-

12:15 pm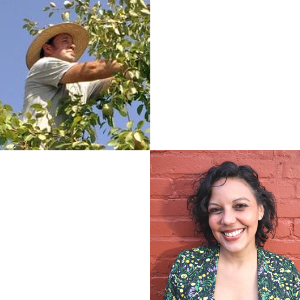 Little orchards. Big impact. Will your city be next in joining this food sovereignty movement? The purpose of the Giving Grove's work is to inspire and excite neighborhoods about growing food by way of fruits, berries, and nuts. Since the Kansas City nonprofit started planting gardens and orchards in 2013, its footprint has expanded to almost 400 orchards in 10 cities, and this network of cities is growing rapidly.
Beyond providing fresh food to the communities they serve, Giving Grove's orchards have also cultivated a network of community stewards—volunteers who take ownership of the orchard installation, orchard maintenance and neighborhood engagement, particularly during harvest season. Stewards not only invest in their neighborhoods, they also participate in life-long horticulture education, learning how to orchard holistically and organically. This grassroots-inspired idea is now being replicated in cities across America. Join Rob Reiman as he describes:
A brief history of the program.
Important nuances in getting a neighborhoods' involvement.
The benefits of a multi-city network in creating innovation.
The impact this program is having on health, equity, and strengthening of community—all while beautifying disinvested neighborhoods.
Ashley has local and international experience in program development, community engagement, and research. She has a Master in Social Work Advocacy, Policy and Administration and is committed to connecting people, ideas and policies. A dedicated Kansas City community member, Ashley is involved with the Unified Government Wyandotte County Board of Park Commissioners, Community Capital Fund Board of Directors, and the Pride Charitable Fund Advisory Board. Ashley is always looking forward to a good podcast, book, or the next time she can work in her ever-expanding vegetable garden or neighborhood Giving Grove orchard.
Matt has been employed in the horticulture field since 1994. He has worked in retail, municipal, botanical garden, and non-profit community horticulture, planted over 10,000 trees and has a passion for growing food and native plants. He continues to botanize the Kansas City area while searching for new champion trees and new plant records. When he is not gardening, he is cooking the produce from the garden and helping raise a couple of teenagers.