CS31 – Friendly Inclusive Gardening (FIG): Garden Design for All Ages and Abilities
June 21 @ 10:00 am

-

11:00 am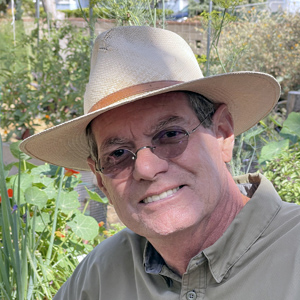 How do you experience the joy of gardening when you have mobility or accessibility challenges? Learn about the FIG program – Friendly Inclusive Gardening – developed by Stephen Cantú, a wheelchair user. He developed it when realizing many in the general public and the Master Gardener program didn't have an understanding about mobility issues when setting up home, school, or community gardens.
"Friendly" means safe and easy to move around and using tools properly.
"Inclusive" is for all ages and physical abilities.
"Gardening" is just that . . . gardening!
The FIG approach offers ideas for all gardeners. What works for those with physical challenges makes gardening easier for everyone else.
Stephen Cantú is a two-time Paralympian and a Master Gardener with the Master Gardener program in San Diego County. Making gardening more inclusive has been on his mind ever since a job site accident led to his wheelchair use four decades ago. "An environment should be designed to meet the needs of all people who wish to use it." He gardens on a 2-acre paradise of edibles, fruit trees, succulents, and berries on a hillside in Bonita, CA. Stephen is also a woodworker, journeyman carpenter, and a consultant on accessibility and ADA compliance.