WS05 -Session Full-SOLD OUT! Identifying Common Plant Problems
June 18 @ 3:00 pm

-

5:00 pm

$45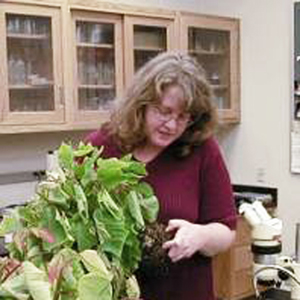 Extension Master Gardeners are often the front line for identifying plant problems and making recommendations for home landscapes and gardens. Anyone who has ever worked a garden hotline knows you have to be part detective to be successful. This workshop provides a hands-on opportunity to improve your plant pathology detective skills:
Learn how to apply the same problem-solving process used by professionals.
Discover how to identify common problems quickly and easily.
Find out how a site history can help solve mystery problems and more.
Attendees will leave more confident in their ability to identify plant problems at home and in the community.
Length: 2 hours
Max participants: 25
According to educator/plant disease diagnostician Judy O'Mara, her favorite classrooms are filled with third graders and Extension Master Gardeners. Why? Because both share her enthusiasm for plants. As director of K-State's Plant Disease Diagnostic Lab for 34+ years, Judy's reputation as chief detective of plant disease is indisputable. In addition to her work in the lab, since 1990, she has trained hundreds of Kansas Extension Master Gardeners in how to accurately diagnose common plant problems. She is also an instructor in K-State's College of Agriculture where she teaches crop and landscape disease diagnostics to future horticulture industry professionals.