TS07 – Pockets of Opportunity: An Urban Farm Tour
June 19 @ 7:30 am

-

4:15 pm

$105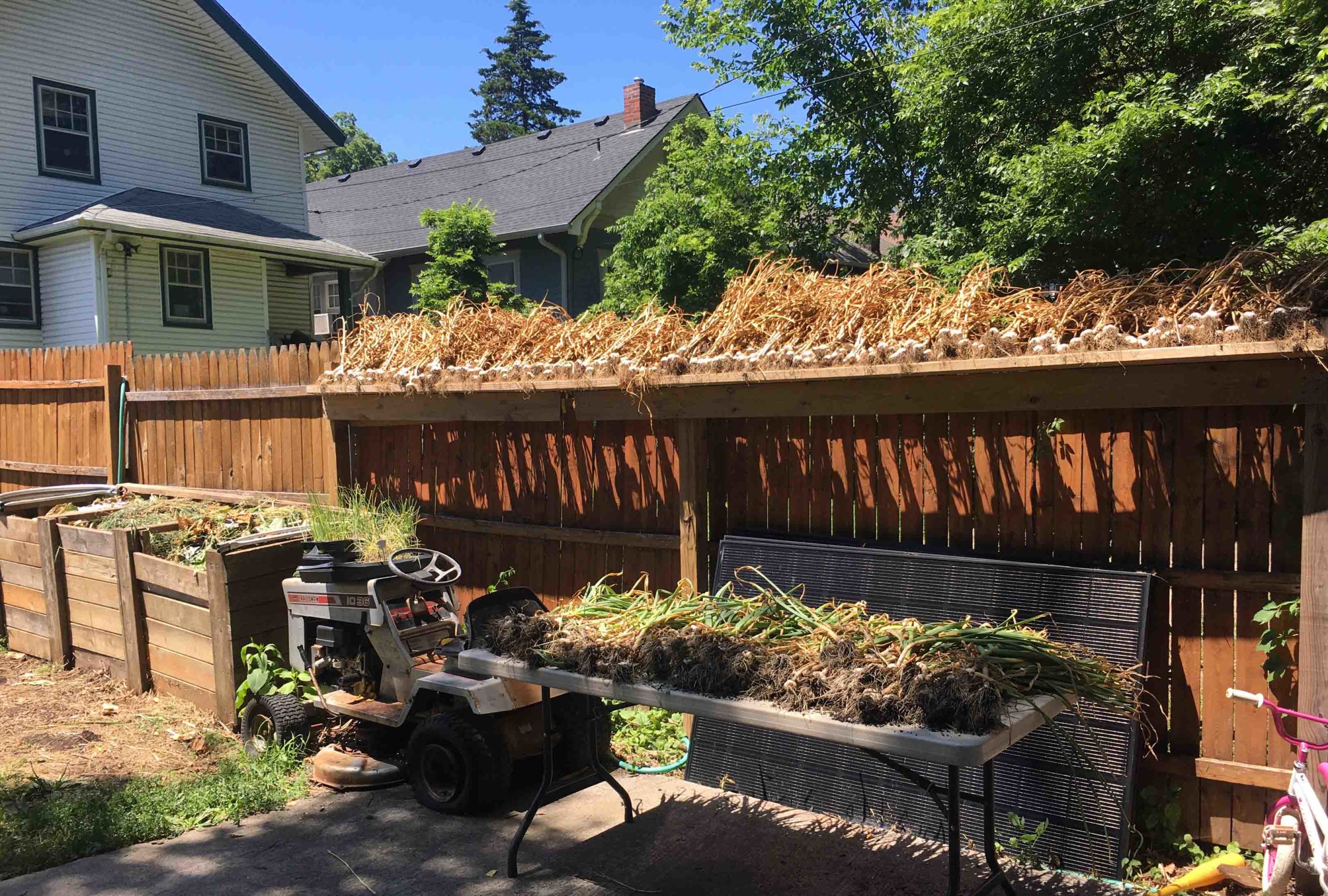 Live. Laugh. Love. Farm. Take this tour and feel the excitement that grassroots change is bringing to the urban core. Not only is the urban farm movement alive and well in the heart of Kansas City, it's flourishing. In fact, Kansas City has one of the most vibrant urban agriculture communities in the country.
All five of the urban farms on this tour share a common passion: ending food inequity in the urban core and providing people with easy access to fresh, homegrown produce.
• Visit Kansas City Community Gardens and Cultivate KC, two non-profits who are the motherships in Kansas City for the urban farm movement.
• Visit Young Family Farm, Woodland City KC, and the Urbavore Urban Farm, three for-profit farms, each unique from one another.
You'll get insight into what it takes to run a farm business in the city. Meet the leaders who repurposeed vacant lots and are making a social impact. See what's happening on as little as a quarter-acre of land. Listen as the farmers tell their own unique stories on how they got started, what's important to them, and how their farms operate today.
You'll also get ideas for:
• Your own home garden.
• Expanding a hobby garden plot to a for-profit business.
• Encouraging small urban farming in your own community.
• Working with your local government and civic leaders to get urban farming started.
Get inspired by neighbors working together to feed each other! You'll be awed by the dedication to the local community by the urban farmers on this tour.
---
Cost:    $105
———————————————————
Tour Length: 9 hrs
———————————————————
Departure Time: 7:30 a.m., Monday, June 19
———————————————————
Max Participants: 50
———————————————————
Included
Water on the bus. Be sure to bring your conference water bottle.
Lunch
———————————————————
What to Bring
You'll get a workout on this tour! Wear comfortable, closed-toe shoes. Wear clothing suitable for a farm visit. Be sure to bring your conference water bottle.
——————————————————— 
Accessibility
The farms, some hilly, have many uneven and unpaved grass, dirt and gravel surfaces.
ITINERARY
Kansas City Community Gardens
The morning's first stop is at the remarkable Kansas City Community Garden (KCCG). As you will see, their mission and hearts are big. For over 40 years, this non-profit has worked tirelessly to inspire and support low-income households, community groups and schools to grow their own vegetables and fruit and improve their quality of life.
Backyards . . . vacant lots . . . empty community spaces . . . schoolyards . . . all are candidates for teaching people how to garden and put under-used land to work growing affordable and nutritious food for people who otherwise may have difficulty getting it.
KCCG supports more than 3,160 home gardeners and 750 community gardens and orchards. Talk about large scale. Listen to KCCG staff as they tell you about the support and services they offer. Learn about:
How membership works. For a nominal fee, KCCG provides everything to get an urban gardener going. Included are heavily discounted seeds, tools, supplies, soil and fertilizer. Need a backyard tilled to get going? The staff even does that to make people successful.
KCCG's many free workshops on fruit and vegetable gardening.
How they go about helping home gardeners of varying skill levels have successful gardens.
The diverse range of gardens they support.
How they go about finding funding to support growers and community sites.
How the staff of 26 is organized to meet the needs of the people and communities they serve.
See the operation in action.
Visit the Giving Grove orchard, an example of a little orchard with a big impact. (By the way, Rob Reiman, the CEO of The Giving Grove, is one of the speakers at IMGC.)
Experience the Beanstalk Children's Garden, an educational see-smell-touch-taste garden for children to learn where their food comes from
See in-ground and raised bed rental plots in a community garden.
See the insectary garden with different types of plants that attract, feed and shelter beneficial insects.
Peek in the member store, which is stocked with gardening supplies including seeds that grow in our soil and climate, seasonal plants and tools.
Young Family Farm
The Young Family Farm is the story of light pushing out the darkness in a neighborhood. The end of the story is what you see today, a family-owned small farm in an inner-city neighborhood, the Ivanhoe Neighborhood, run by three generations of Young family members. They grow pesticide-free food and sell it directly to residents from their farmstand to make sure residents have easy access to fresh, healthy produce.
While the end of Alan and Yolanda Young's story is amazing in itself, the beginning is even more amazing. When Alan and Yolanda moved to the Ivanhoe Neighborhood over 30 years ago, it had the highest crime rate in the city. Farming was the last thing on their mind. But what was on their mind was working to restore and beautify their neighborhood, build community, and make their Ivanhoe Neighborhood a clean, safe and welcoming place.
The Youngs are always ready to teach and share their wisdom with you and others that come to their farm.
Find out how the Youngs got into farming by accident. Who thought buying a nearby lot for their kids to play would develop into a farm business?
Find out the "why" behind their dedication and hard work to provide healthy, pesticide-free food to the urban core.
Walk the gardens as you learn about the high yield and bio-intensive farming methods they use: no-till, high density, spin farming (small plot intensive) and no pesticide and chemical use.
Learn more about how Community Supported Agriculture (CSA) works.
You'll find out why customers say, "The veggies are great, but the people who grow them are even better."
BY THE WAY: Today, Alan is the Housing Director for the Ivanhoe Neighborhood Council, and Yolanda is the State Representative for District 22 in the Missouri Legislature.
Woodland City KC
The next stop is the Woodland City KC farm, a half-acre farm that's also in the Ivanhoe Neighborhood.
Neil Rudisill and Lisa Hummel, the owners, are trailblazers for urban farming in the urban core. They have played a pivotal role in bringing it about. Several years ago, Neil was hired by the Ivanhoe Neighborhood Council to improve the health and well-being of the neighboring community by encouraging residents to grow their own produce and encouraging for-profit urban farming. With his formal training in nursing and small-scale agriculture, he has done just that.
Because the best way to learn farming is from farmers, Woodland City KC is not only a profitable business, it's a teaching tool for mentoring other urban farmers. It's also a teaching farm for apprentices in the Growing Growers program through K-State Extension.
Neil is a wealth of information on how to make a social impact as well as a profit with urban farming. You'll find visiting with him enlightening as you learn more about:
The best growing and management practices for making a profit with small-scale farming.
Methods for extending the growing season to three, sometimes even four, seasons.
Profit-making methods for selling fresh produce. Find out how well these work: farmers markets, selling online, direct-to-consumer subscription sales, and direct sales to restaurants.
How he goes about helping urban farmers obtain federal, state and local grant money. (Woodland City KC is a good example. He developed it almost debt free using grant money.)
How the tool lending library works.
What's motivates people to try urban farming.
Lunch
By midday, it's time for a tasty lunch and to rest and refuel.
Cultivate KC
Cultivate KC, the second remarkable non-profit, promotes and supports urban farming in Kansas City. Nothing thrills them more than good, fresh, real food grown right here in Kansas City!
Founded in 2005 by organic farmers, they are made up of educators, trainers, facilitators, organizers and farmers. They are dedicated to helping growers develop skills and access resources to start and maintain a sustainable farm business in Kansas City.
Tour the Westport Commons Farm, one of Cultivate KC's urban food-growing sites. Westport is an area in the heart of Kansas City known for its entertainment and nightlife. Cultivate KC thought it was the perfect place for an urban farm! (Don't you?) When a middle school ballfield sat unused, they reclaimed the soil, planted cover crops, brought in a few cows, and Westport Commons Farm was born. It creates a place for area residents, businesses and urban farmers to connect with their food and with each other.
Visit with the staff of Cultivate KC as you learn about:
Why cover crops like legumes, grains and grasses are planted in the Westport Commons Farm to improve the soil for vegetable and fruit production.
The scale of practical support they providefrom workshops, 1-on-1 assistance and consulting to grants and buying in bulk.
How they connect farmers with neighborhoods, communities and restaurantsand vice versa.
How food access programs benefit both consumers and producers.
How they work with urban planning departments, community leaders and city staff to pass codes and get policies changed that better support urban food production and people's access to it.
How the wonderful New Roots for Refugees program works, a program that helps refugees start and operate independent vegetable farms for profit here in a Midwest climate.
Urbavore Urban Farm 
 Nothing is normal about Urbavore, but everything is right! 
 You'll love meeting urban farmers Brooke Salvaggio and Dan Heryer. And perhaps a few chickens and pigs. Urbavore is a 13.5-acre homestead and the ultimate definition of an off-the-grid and self-sustaining farm. Urbavore grows 100% organic produce and livestock. They sell directly to customers, feeding hundreds of people each week and selling thousands of dollars of food. 
 Brooke and Dan purposely located their farm a stone's throw from Kansas City's urban core. "We want to grow things and feed people where people actually live." They grow over 100 varieties of gourmet vegetables, and raise large plantings of blueberries, blackberries, strawberries and asparagus. They have small orchards of apple, pear, peach and plum trees. And, to round things out, they raise heritage free-range laying hens (70 dozen eggs a week in the peak of egg season) and heritage pigs. Says Brooke, "It means everything to me to grow food and feed other people." 
 The day-to-day reality of living off-the-grid at Urbavore is noteworthy. 
They produce their own water from a rain retention pond. Most of the electricity comes from solar power.

 

They use no-till regenerative growing practices.

 

 Crops rely on rainfall. There's no irrigation.

 

They use zero pesticides. Instead, they rely on native plants, wildflowers and herbs to attract beneficial insects and pollinators, and then let the little "warriors" combat the pests.

 

Compost and manure replace traditional chemical fertilizers.

 

The chicken and pigs are put to work prepping and caring for the fields

¾

as only chickens and pigs can do.

 

Their earth-bermed home requires little to no heating. There's no septic or sewer. The family uses composting toilets and recycles grey/black water.

 
 Compost is a big deal because growing organic requires a lot of it, more than what the farm can produce with their own materials. So Urbavore got creative and created a community composting program where city residents can drop off their food scraps for free at the front of the farm. Urbavore also owns and operates Compost Collective KC, a curbside pick-up service for compost. It brings in 10,000 pounds of food waste each week from area households. 
 Wow! How exactly does that all work? Come and find out. See it in action. 
After a farm-filled day, it's time to board the bus for the 20-minute ride back to the Convention Center. We should arrive around 4:30 p.m.