CS01 – The Best Herbs to Use in Landscape Design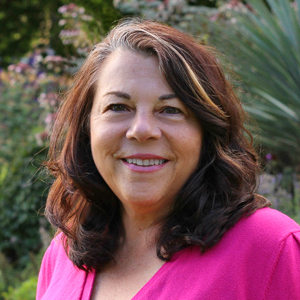 It's time to think outside the herb garden. Incorporating herbs into the landscape is a new look at the traditional way of growing herbs. Low maintenance, water misers, pollinator attraction, and fantastic foliage. These are just some of the reasons for using herbs throughout the landscape.
Get to know the best herbs to use in your landscape, from meadow makers to pollinator attracters.
Learn about the best herbs for hedges, groundcover, containers, and large spaces.
Discover design tips on how to mingle and mix herbs with ornamental plants.
Walk away with recipes for edible and bath/spa products that anyone can make.
Sue Goetz is an award-winning garden designer, writer, and speaker. Through her business, Creative Gardener (suegoetz.com), she works with clients to personalize outdoor spaces, from garden coaching to full landscape design. A popular speaker and hands-on workshop leader, Sue is all about creativity in and out of the garden. Her garden design work has earned awards at the Northwest Flower & Garden Show, Sunset Magazine Western Living, Fine Gardening, and the American Horticultural Society. Sue is a Certified Professional Horticulturist (CPH) and ecoPRO certified in sustainable landscaping. She lives and gardens in the beautiful Pacific Northwest.